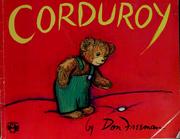 Corduroy
New York, N.Y. : Puffin Books, 1976.
30 unnumbered pages : color illustrations ; 19 x 23 cm.
The amusing story of a toy bear whose one missing button from his green corduroy overalls almost costs him the opportunity of belonging to someone. Don Freeman's classic character, Corduroy, is even more popular today then he was when he first came on the scene over thirty years ago. These favorite titles are ready for another generation of children to love.
Overdue
Regular
All copies at The Family Library are out and at least one is overdue
| | |
| --- | --- |
| ISBN: | |
| ISBN: | |
| ISBN: | |
| ISBN: | |
| ISBN: | |
| ISBN: | |
| ISBN: | |
| ISBN: | |
| LC Call No: | PZ8.9.F85 |
| Dewey Class No: | 813 19 |
| Author: | Freeman, Don, 1908-1978. http://id.loc.gov/authorities/names/n79083605. |
| Title: | |
| Physical: | 30 unnumbered pages : color illustrations ; 19 x 23 cm. |
| ContentType: | |
| MediaType: | |
| CarrierType: | |
| Series: | |
| Summary: | The amusing story of a toy bear whose one missing button from his green corduroy overalls almost costs him the opportunity of belonging to someone. Don Freeman's classic character, Corduroy, is even more popular today then he was when he first came on the scene over thirty years ago. These favorite titles are ready for another generation of children to love. |
| Subject: | |
| Subject: | |
| Subject: | |
| Subject: | |
| Subject: | |
| Subject: | |
| SAE:UnifrmTitle: | Picture Puffins. http://id.loc.gov/authorities/names/n42036088. |
| Link: | |