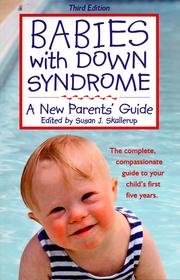 Babies with Down syndrome : a new parents' guide
Bethesda, MD : Woodbine House, 2008.
358.
Covers medical care, daily care, family life, development, early intervention, learning, legal rights, and much more, the new edition is a complete roadmap to every aspect of your child's health and well being from birth through age five.
Available
Regular
1 copy available at The Family Library
| | |
| --- | --- |
| ISBN: | |
| Author: | |
| Title: | |
| Edition: | 3rd ed. |
| Publisher: | Bethesda, MD : Woodbine House, 2008. |
| Physical: | 358. |
| Summary: | Covers medical care, daily care, family life, development, early intervention, learning, legal rights, and much more, the new edition is a complete roadmap to every aspect of your child's health and well being from birth through age five. |
| Subject: | |
| Subject: | |
| Subject: | |
| Link: | |
| Field | Ind | Subfield | Data |
| --- | --- | --- | --- |
| 001 Control No | | | 5594 |
| 005 LastTransaction | | | 20181106120819.0 |
| 020 ISBN | | $a ISBN | 978-1-890627-55-3 |
| 100 ME:PersonalName | | $a Personal name | Skallerup, Susan J., ed. |
| 245 Title | 0 | $a Title | Babies with Down syndrome : |
| | | $b Remainder of title | a new parents' guide. |
| 250 Edition | | $a Edition statement | 3rd ed. |
| 260 PublicationInfo | | $a Place of publication, dist. | Bethesda, MD : |
| | | $b Name of publisher, dist, etc | Woodbine House, |
| | | $c Date of publication, dist, etc | 2008. |
| 300 Physical Desc | | $a Extent | 358. |
| 520 Summary | | $a Summary, etc. note | Covers medical care, daily care, family life, development, early intervention, learning, legal rights, and much more, the new edition is a complete roadmap to every aspect of your child's health and well being from birth through age five. |
| 650 Subj:Topic | | $a Topical term | Family Library |
| 650 Subj:Topic | | $a Topical term | Down Syndrome |
| 650 Subj:Topic | | $a Topical term | Children with mental disabilities. |
| 852 Holdings | | $a Location | TFL |
| | | $p Barcode | 3652 |
| | | $9 Cost | $0.00 |
| 852 Holdings | | $a Location | TFL |
| | | $p Barcode | 7242 |
| | | $9 Cost | $0.00 |
| 856 ElectronicLocat | 4 | $3 Materials specified | Cover image |
| | | $u Uniform Resource Identifier | https://covers.openlibrary.org/b/id/7013329-M.jpg |