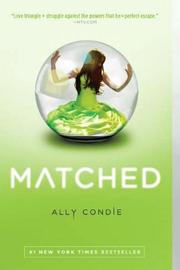 Matched
New York : Speak, 2011, ©2010.
369, 16 pages ; 21 cm.
All her life, Cassia has never had a choice. The Society dictates everything: when and how to play, where to work, where to live, what to eat and wear, when to die, and most importantly to Cassia as she turns 17, whom to marry. When she is Matched with her best friend Xander, things couldn't be more perfect. But why did her neighbor Ky's face show up on her match disk as well?.
Lexile: 680L
Available
Regular
1 copy available at The Family Library
| | |
| --- | --- |
| ISBN: | |
| ISBN: | |
| ISBN: | |
| ISBN: | |
| LC Call No: | PZ7.C7586 Mat 2011 |
| LC Call No: | PS3603.O5326 M38 2011 |
| Dewey Class No: | [Fic] 23 |
| Author: | |
| Title: | |
| Publisher: | New York : Speak, 2011, ©2010. |
| Physical: | 369, 16 pages ; 21 cm. |
| ContentType: | |
| MediaType: | |
| CarrierType: | |
| Series: | |
| Notes: | Sequel: Crossed. |
| Summary: | All her life, Cassia has never had a choice. The Society dictates everything: when and how to play, where to work, where to live, what to eat and wear, when to die, and most importantly to Cassia as she turns 17, whom to marry. When she is Matched with her best friend Xander, things couldn't be more perfect. But why did her neighbor Ky's face show up on her match disk as well?. |
| Target Audience: | |
| Subject: | |
| Subject: | |
| Subject: | |
| Subject: | |
| Subject: | |
| Subject: | |
| Subject: | |
| SAE:PersonlName: | |
| Link: | |
| Field | Ind | Subfield | Data |
| --- | --- | --- | --- |
| 001 Control No | | | 9845 |
| 005 LastTransaction | | | 20190212041629.0 |
| 007 Phys Desc Fixed | | | ta |||||||||||||||||||| |
| 008 Data Elements | | | 110410t20112010nyu d 000 1 eng d |
| 019 | | $a | 798229460 |
| | | $a | 847637818 |
| 020 ISBN | | $a ISBN | 978-0-14-241977-9 |
| | | $q | (pbk.) |
| 020 ISBN | | $a ISBN | 978-0-14-241977-9 |
| | | $q | (pbk.) |
| 020 ISBN | | $a ISBN | 978-0-606-23140-4 |
| | | $q | (Turtleback Books binding) |
| 020 ISBN | | $a ISBN | 978-0-606-23140-4 |
| | | $q | (Turtleback Books binding) |
| 035 System Ctrl No | | $a System control number | (OCoLC)712116974 |
| | | $z Canceled/invalid control no. | (OCoLC)798229460 |
| | | $z Canceled/invalid control no. | (OCoLC)847637818 |
| 035 System Ctrl No | | $a System control number | (OCoLC)712116974 |
| 040 Cataloging Src | | $a Original cataloging agency | BTCTA |
| | | $b Language of cataloging | eng |
| | | $c Transcribing agency | BTCTA |
| | | $d Modifying agency | WRS |
| | | $d Modifying agency | MZ3 |
| | | $d Modifying agency | OCLCQ |
| | | $d Modifying agency | BDX |
| | | $d Modifying agency | GZM |
| | | $d Modifying agency | YDXCP |
| | | $d Modifying agency | NJR |
| | | $d Modifying agency | PX0 |
| | | $d Modifying agency | BUF |
| | | $d Modifying agency | CZL |
| | | $d Modifying agency | CNAHP |
| | | $d Modifying agency | OCLCF |
| | | $d Modifying agency | KK2 |
| | | $d Modifying agency | OCLCQ |
| | | $d Modifying agency | OCL |
| | | $d Modifying agency | IGA |
| | | $d Modifying agency | OTC |
| 050 LC Call No | 14 | $a Classification number | PZ7.C7586 |
| | | $b Item number | Mat 2011 |
| 050 LC Call No | 4 | $a Classification number | PS3603.O5326 |
| | | $b Item number | M38 2011 |
| 082 Dewey Class No | 04 | $a Classification number | [Fic] |
| | | $2 Edition number | 23 |
| 100 ME:PersonalName | 1 | $a Personal name | Condie, Allyson Braithwaite. |
| 245 Title | 10 | $a Title | Matched / |
| | | $c Statement of responsibility | Ally Condie. |
| 260 PublicationInfo | | $a Place of publication, dist. | New York : |
| | | $b Name of publisher, dist, etc | Speak, |
| | | $c Date of publication, dist, etc | 2011, ©2010. |
| 300 Physical Desc | | $a Extent | 369, 16 pages ; |
| | | $c Dimensions | 21 cm. |
| 336 ContentType | | $a Content type term | text |
| | | $b Content type code | txt |
| | | $2 Source | rdacontent |
| 337 MediaType | | $a Media type term | unmediated |
| | | $b Media type code | n |
| | | $2 Source | rdamedia |
| 338 CarrierType | | $a Carrier type term | volume |
| | | $b Carrier type code | nc |
| | | $2 Source | rdacarrier |
| 490 SeriesStatement | 1 | $a Series statement | Matched trilogy ; |
| | | $v Vol. no./sequential designatn | 1. |
| 500 General Note | | $a General note | Sequel: Crossed. |
| 520 Summary | | $a Summary, etc. note | All her life, Cassia has never had a choice. The Society dictates everything: when and how to play, where to work, where to live, what to eat and wear, when to die, and most importantly to Cassia as she turns 17, whom to marry. When she is Matched with her best friend Xander, things couldn't be more perfect. But why did her neighbor Ky's face show up on her match disk as well?. |
| 521 Target Audience | 8 | $a Target audience note | 680 |
| | | $b Source | Lexile. |
| 650 Subj:Topic | | $a Topical term | Family Library |
| 650 Subj:Topic | | $a Topical term | Adolescent Fiction |
| 650 Subj:Topic | 0 | $a Topical term | Dystopias |
| | | $v Form subdivision | Juvenile fiction. |
| 650 Subj:Topic | 0 | $a Topical term | Marriage |
| | | $v Form subdivision | Juvenile fiction. |
| 650 Subj:Topic | 0 | $a Topical term | Mate selection |
| | | $v Form subdivision | Juvenile fiction. |
| 650 Subj:Topic | 0 | $a Topical term | Triangles (Interpersonal relations) |
| | | $v Form subdivision | Juvenile fiction. |
| 650 Subj:Topic | 0 | $a Topical term | Self-realization |
| | | $v Form subdivision | Juvenile fiction. |
| 655 IT:Genre | 7 | $a Genre/form data or focus term | Young adult fiction. |
| | | $2 Source of term | lcgft |
| 655 IT:Genre | 4 | $a Genre/form data or focus term | Young adult fiction. |
| 655 IT:Genre | 7 | $a Genre/form data or focus term | Dystopias. |
| | | $2 Source of term | lcgft |
| 655 IT:Genre | 7 | $a Genre/form data or focus term | Fantasy fiction. |
| | | $2 Source of term | lcgft |
| 655 IT:Genre | 7 | $a Genre/form data or focus term | Fiction. |
| | | $2 Source of term | fast |
| | | $0 | (OCoLC)fst01423787. |
| 655 IT:Genre | 7 | $a Genre/form data or focus term | Juvenile works. |
| | | $2 Source of term | fast |
| | | $0 | (OCoLC)fst01411637. |
| 655 IT:Genre | 7 | $a Genre/form data or focus term | Young adult works. |
| | | $2 Source of term | fast |
| | | $0 | (OCoLC)fst01726790. |
| 800 SAE:PersonlName | 1 | $a Personal name | Condie, Allyson Braithwaite. |
| | | $t Title of a work | Matched trilogy ; |
| | | $v Volume/sequential designation | 1. |
| 852 Holdings | | $a Location | TFL |
| | | $9 Cost | $0.00 |
| 852 Holdings | | $a Location | TFL |
| | | $p Barcode | 7180 |
| | | $9 Cost | $0.00 |
| 856 ElectronicLocat | 4 | $3 Materials specified | Cover image |
| | | $u Uniform Resource Identifier | https://covers.openlibrary.org/b/id/6975790-M.jpg |